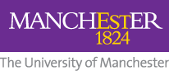 Home
Counselling and Mental Health Service
Making Manchester Home
Event details
Drop in. No booking necessary.
Making Manchester Home offers a space for students to share and reflect on their experiences of living in Manchester; the transition from home and the challenges or positives of moving to a new city or country.
This session forms part of a group of 4 sessions. You are welcome to come along to as many sessions as you like.
As booking is not required, please turn up early for each session as once the group has reached capacity we will not be able to admit more people
This event is for students only
Already under way
This event has already started.
Event tags